Our Two Glamping Lodges
Our bespoke Glamping Lodges sleep a family of five comfortably and are Pet Friendly, complete with a fabulous inside Barbecue.
The lodges - "Red Deer Lodge" and "Roe Deer Lodge" are sited surrounded by stunning views of open countryside, on our family run farm at Bouth in the South Lakes.
Each lodge sleeps a family of five. They have two separate sleeping quarters, one containing a full sized double bed with luxury memory foam mattress for added comfort, and one with three fold out single beds, also inside each lodge is a fabulous barbecue with a picnic table outside. (You will need to bring your own charcoal, fire lighters & matches for the barbecue)
Our bespoke lodges have LED multicolour, ultra bright, top of the range LED lighting - which really is the business!!
Dogs are also welcome to stay, maximum of two. You can park your vehicle along side your lodge.
Short distance away are toilet and showers facilities, plus a wash up area, there are electric points in the washroom for your hair drier, razor etc.
When packing for your lodge holiday, you will need to bring everything you would for camping (this includes bringing your own cutlery, crockery & bedding etc) - but leave the tent behind. You're welcome to bring your own ice box, we are happy to freeze your ice packs for you.
We have an area close to our lodges which you can reserve for your family and friends to join you with there tent or touring caravan.
We look forward to welcoming you to our bespoke lodges, if we can help with anything else, please don't hesitate to contact us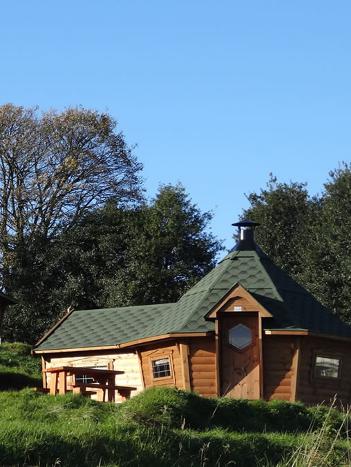 Prices
Friday & Saturday : £140
Friday to Monday : £180
Monday to Friday : £220
Monday to Monday or Friday to Friday : £325
Bank holiday periods Friday to Monday only : £210
Dogs : £5.00 per night, per dog. Maximum of 2 dogs.
We are open from 1st March to 15th November.
• A non refundable deposit of £50.00 is required at time of booking
• Balance is due 6 weeks before arrival
• A security deposit of £50.00 is required on all bookings, this will be returned within 14 of departure, providing the accommodation has been left in a clean condition & there has been no damage caused.
• The lodge will be ready for you from 4.30pm on the day of your arrival, unless otherwise stated
• If you intend to arrive after 7pm please advise us in advance
• You must vacate the lodge by 10.30am on day of departure
• Please make cheques payable to Ann Buchanan
• Anyone causing a disturbance will be asked to leave
• Dogs must be kept on a lead and under control at all times
Glamping Lodge Availability
You can view the availability of both "Red Deer Lodge" and "Roe Deer Lodge" below - please call or email us for more information and to book
Simply use the forward and back arrows on the calendar to view your preferred dates